" Be your own kind of Beautiful"
At Shea Beauty - The Skin & Beauty Clinic, we want to encourage you in your own kind of beauty. We have design our treatments and products to help cater for you in our small country town.
In the spotlight this month is our amazing TCA Peel Treatment. Perfect if you want to remove and start again. 
Great for anti-ageing, lifting and firming, minimising large/open pores, breakouts & acne, dark spots and pigmentation and bring life back to your skin this winter.
This does include a follow up treatment.
Book today & start your results!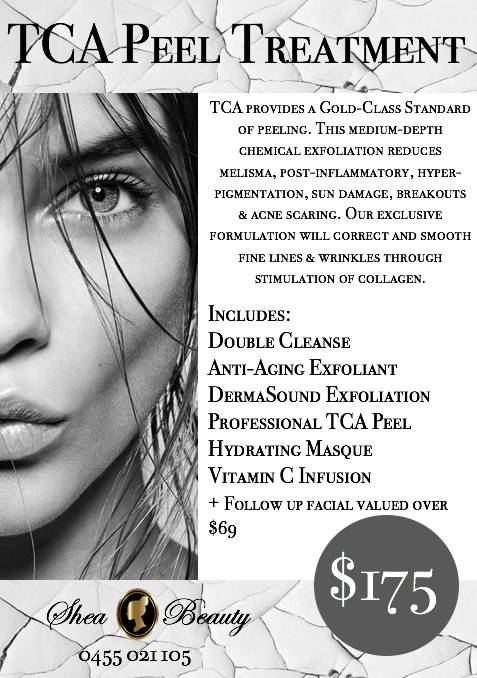 Shea Beauty 23 Henry Street, St George, Queensland 4487
Monday: 10:00am - 4:00pm

Tuesday: 9:00am - 5:00pm
Wednesday: 9:00am - 5:00pm
Thursday: 10:00am - LATE
Friday: 9:00am - 5:00pm
Saturday: 9:00am - 12:00pm
Sunday: CLOSED
Shea Beauty is pure luxury and relaxation. Service is second to none, If you haven't treated yourself already, you need to. Pop in and see the girls, you'll wonder why you waited so long. - Betty 
I have just received my Mother's Day gift which was purchased at Shea Beauty. Absolutely beautiful. Thank you for helping my family choose a perfect gift. Can't wait to move to St George and meet you all. - Kathy
Had a facial, and it was superb. The atmosphere was beautiful, staff were incredible and my treatment was amazing! - Kate
Thank you for supporting our local business. Your money doesn't go to a multi-millionair's 4th holiday house but you have encouraged our salon to go bigger & better providing better services to locals so they don't have to travel. 
You have also supported 5 families, 4 children's educations, providing food on our tables and a roof above our families head. We do try to return the favour with stocking in the best quality of Australian brands, keeping Australian jobs & produce. 
Thank you again for shopping local. 
Love the Shea Beauty Family xo