Meet the Shea Beauty Family. Get to know our passions and qualifications.
Shea Beauty was founded by Brooke Wuersching in 2013. Brooke first started Shea Beauty as a home salon when she moved back from the big city. Starting small she did appointments for friends and family. Business went so well 5 months later Brooke and her husband brought and renovated a small shop in a small country town of St George and with her mum Sharon, they opened Shea Beauty to the public.
"Growing up in the country and now owning a local business, we really understand how important it is to support locals. To ensure our small town and our beautiful country Australia flourishes, it is important to myself as a business owner to purchase stock that is local. In the salon we are proud to say that over 90% of our brands are Australian made & own. We have made sure we are providing only the best of beauty products in the industry. We cannot thank our clients enough for each dollar they spend in the salon, it really does make a difference." - Brooke
"My daughter and I are so blessed to have such a wonderful team and clients who love that extra care we give them. There is nothing more important than family, and we love our Shea Beauty Family." - Sharon
As a Shea Beauty Family, we believe that looking your best involves more than a simple cosmetic procedure. We understand that beauty is a balance between how you look and feel inside and out. We will bring you knowledge on each puzzle piece to a healthier, younger you. We are passionate about giving you the best of care to ensure the balance between your motivation and goals are met with the use of our expert skin therapists, products, and treatments. We have developed the best of treatments with our expert team to maximize your health and happiness.
Welcome to the Shea Beauty Family
Our Shea Beauty Family specialists in the art of beauty inside and out. We believe beauty come from within and is enhanced from without.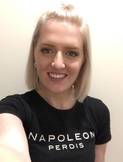 Brooke Wuersching
Founder of Shea Beauty
Brooke obtains not only a Diploma in Beauty Therapy but was also Awarded Excellence in her field. With years of experience in the industry she will help you find your health, well-being & happiness. Brooke is our Senior Therapist, creating the best of treatments for our clients and of course the best of savings.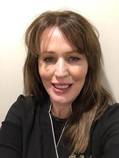 Sharon Saunders
Manger Director
Sharon is well experienced in managing a business. Her passion is customer care, making you feel joy, happiness and comfort when entering our salon. Sharon will give you the best advice on product knowledge for care at home.
Brooke is a mum of 2 boys and is married to a farmer.
" I want my clients to feel their best in their own skin. I believe in supporting local business and produce will make huge difference in not only our town but in our country."
Sharon has 3 Children, 2 Grand-sons and is married to a farmer.
" I want all our clients to feel they don't have to travel away for treatments or any beauty needs, ensuring they can get it here locally."
Hannah Dodd
Beauty Therapist
Hannah specialises in our beauty treatments and home care. With a Diploma Qualification, Hannah will help you with your home care, advice & results. Hannah is most passionate about treating the skin to help it look clearer, healthier & younger.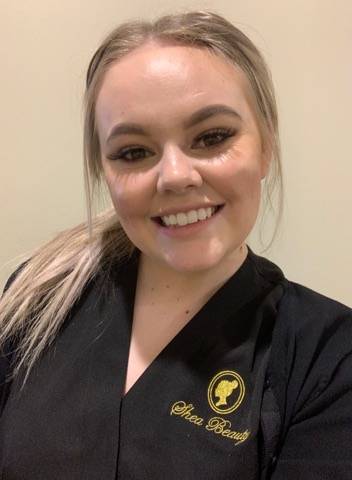 Pippa Kelly
Beauty Therapist
Pippa specialises in all things beauty. From your basic waxing and tinting, to advanced makeup, lash extensions, and skin treatments. Pippa loves educating our clients, no matter how small or large the treatment is, knowing that they feel pampered, relaxed and spoiled. She has been in the industry for 4 years and cannot wait to learn more.
Han is our Bride-To-Be. This country girl loves all things beauty.
" I want to educate my clients"
Pip has returned back to her local town of St George from the big city. Loving the country lifestyle & community.
"I love helping my clients achieve their beauty goals and helping them feel beautiful inside & out. Everyone deserves to be pampered and feel beautiful."
Courtney Spackman
Receptionist

Courtney is our receptionist here to welcome you in our salon. Loving the beauty industry, Courtney is studying her diploma and is already enjoying doing treatments. She brings so much joy into the salon with her passion of makeup, beauty and love for candles. Courtney specialises in our salon events, making sure you enjoy your time in the salon.

Court is studying her Diploma in Beauty Therapy and already loving it!
" I want to educate my clients, through inner beauty and outta beauty, through the use of our amazing services & products."

ALISON SPECIALISES IN OUR MASSAGE TREATMENTS. ALISON WILL HELP YOU DISCOVER THE REASON FOR YOUR ACHES AND PAINS. WITH HER GIFTED HANDS AND TECHNIQUE OF CUPPING, TENSION AND STRESS WILL MELT AWAY FROM YOUR BODY.

Alison is in the salon every Wednesday, call/text the salon to book your appointment.
Doctor Zac Turner
Cosmetic Doctor
DOCTOR ZAC COMES TO SHEA BEAUTY EVERY 2-3 MONTHS PROVIDING THE BEST OF COSMETIC TREATMENTS. GET THE BEST ADVICE FOR YOUR AGEING, HORMONES, WEIGHT, NUTRITION, HEALTH AND WELL-BEING. DOCTOR ZAC IS ALSO ONE OF THE GUEST SPEAKERS AT OUR WELL-BEING & COSMETIC NIGHT.

Zac is in our salon once every 3 months. Due to privacy we do not advertise his dates, however if you wish to know when he is next, join our VIP List. Call/text the salon.
Lauren
Napoleon Perdis Makeup Artist
VISITING MAKEUP ARTIST LAUREN, IS WELL KNOWN FOR HER MAKEUP ON THE RUNWAY OF MERCEDES BENZ FASHION WEEK. LAUREN COMES TO THE SALON TWICE A YEAR TO GIVE YOU THE LATEST ON PRODUCTS AND MAKEUP TRENDS IN THE NAPOLEON PERDIS MAKEUP INDUSTRY.

Lauren can be in our salon 2-3 times a year. Don't miss her next visit when she host wonderful Napoleon Perdis Workshops/Cocktails nights. Join our VIP List if you wish to know when our next event is.
Want to learn more about our events?
Head to our Events Page to learn more. Click the button below.