Meet the Shea Beauty Family. Get to know our passions, beliefs & qualifications.
Welcome to the Shea Beauty Family
Our Shea Beauty Family specialists in the art of beauty inside and out. We believe beauty comes from within and is enhanced from without.
Meet our family, Brooke, Sharon, Hannah, Pippa, Courtney & visiting staff.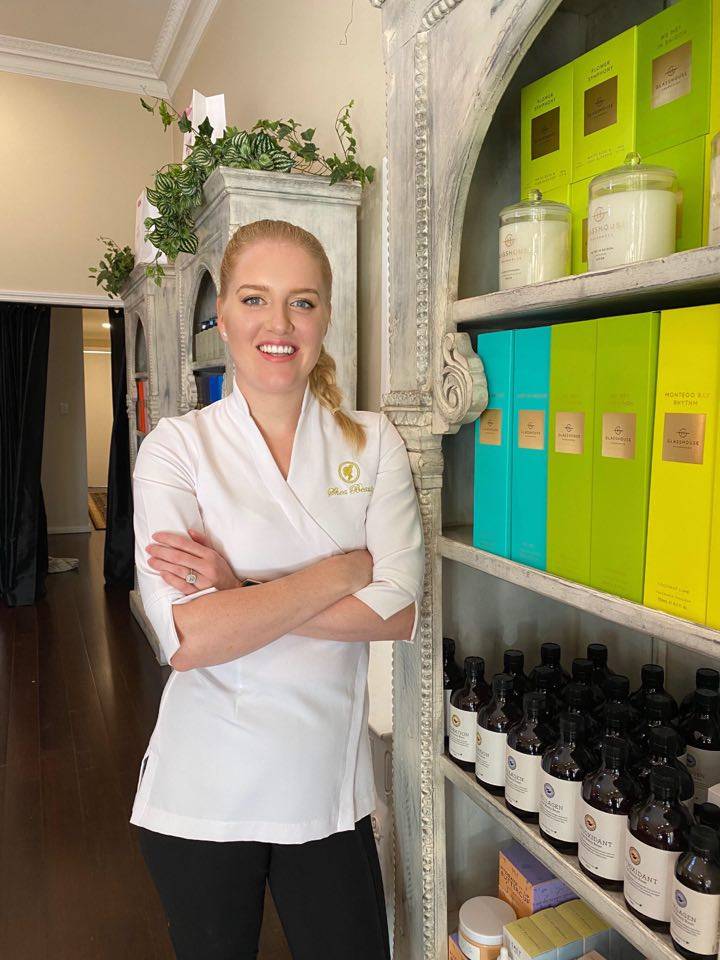 Shea Beauty Founder + Diploma Skin & Beauty Therapist
" I believe every client should get the education for a healthy wellbeing. I believe it is important to have a balance of a clear mind, a nourished inner body so we can enhance the outer beauty with forever results. "
Brooke obtains not only a Diploma in Beauty Therapy but was also Awarded Excellence in her field. With a decade of experience in the industry she will help you find your health, well-being & happiness.

Brooke's caring and knowledgeable nature will help you feel comfortable and confident that you are in the right hands. Her approach explores the relationship between nutrition and your mental health and the impacts it makes on your everyday living and skin. You can see why she has a large loyal following.
2013 Brooke built Shea Beauty with a blend of tradition treatments, wisdom and with advance clinical touches, giving clients the best balance of clinical results with spa relaxation.
With her young family of boys at home, Brooke has her little escape and comes into the clinic providing training to the team and sneaking a few treatments in for our clients.
Manger Director + Shea Beauty Co-Owner
" I want our clients to feel that don't have to travel away for treatments and high-end products, ensuring they can get it here locally."
Manger Director Sharon, is well experienced in managing a business with her certificate in accounting and business. Sharon is the beating heart of the clinic managing appointments, small touches and putting our clients first. Clients feel the warmth, and joy when entering the clinic from her amazing customer care. She is our salon Mumma Bear looking after our clients and our team.
Sharon is our expert in our products and will give you the best advice for the correct home-care to fit your lifestyle and concerns. She believes the little things make a difference, small changes can be life changing.
She loves helping women in their walk of life, especially busy mums on the land. As a farmer's wife, mum & grandmother she knows how important it is to take time for self-care. As busy women we can put work, children, partners all before ourselves, but our mental health and wellbeing is so important. Sharon is here to spoil you.
"I grew up on a property and understand that a lady on the land wears many hats in her day. Looking after yourself and your skin is something we easily put aside and forget about, but amazing results do come from simple routines."
Over 5 years in the beauty industry Hannah specialises in all things beauty, from your tradition waxing, tinting, manicures, pedicures, tanning, event makeups and advanced skin treatments.
With her Diploma in beauty therapy, Hans passion is definitely the skin paired with health & fitness. With educating her clients with a healthy balance in everyday life from diet, exercise and also a good inner health and how this all impacts our wellbeing and our skin. The beauty industry is forever evolving and changing with new technology, Hannah believes it is really important for both clients and therapist to keep up to date. Hannah continues to grow her knowledge in the industry, helping her achieve the best results for her clients and how to maintain that optimum skin health. Come on in and chat to Han about your skin, she will join your journey with advice, treatment plan and the correct home-care to get the ultimate results.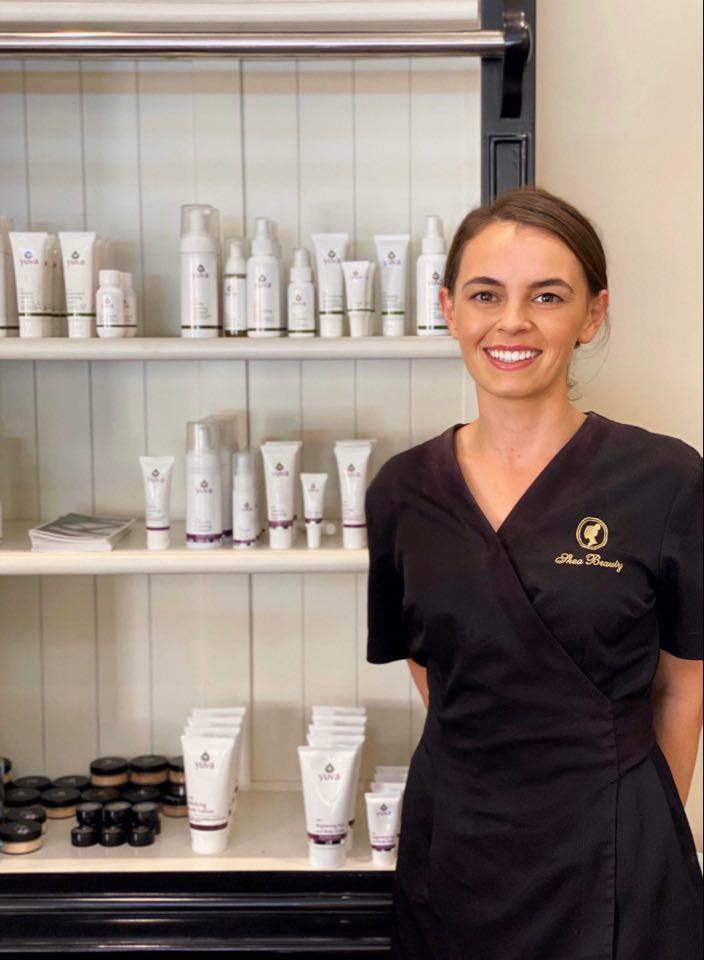 Beauty Therapist + Cert II Skin Therapist
"I have become passionate about so many different areas throughout my career as beauty therapist, but my main focus is creating a relaxing escape for my clients and helping them achieve their inner & outer beauty goals."
Warm, friendly and with a smile Pip is here to spoil you. Pippa takes pride in educating her clients, helping them escape day to day stress in the clinic and giving advice, tools & products to use at home.
Pip makes it easy for you. With her bubbly nature she will give you a clear and supportive guidance to help you feel light, happy, healthy and to get your glow shinning from the inside out. Having a passion with not only beauty treatments but also for event makeup. She loves to get creative for your event or to simply help enhance your natural beauty for brides and their parties. Pip is our Beauty Chef QUEEN! Understanding herself how important the gut health is, she will coach you with your skin and inner health making it simple and second nature to you to achieve realistic results that will last forever. Pippa will dive in to treating you and your whole body - not just one element.
Receptionist + Beauty Student
"I want to educate my clients, through inner & outer beauty, through the use of our amazing services & products. "
-
Welcoming you into our clinic Courtney will have you feeling comfortable and spoiled.
Having such a fun in the clinic when in school, Courtney is now studying her Diploma in beauty therapy and is already loving it. She can't wait to spoil her clients even more with the power of touch. Already in the beauty game, Court is doing professional spray tans and manicures. Clients loving her touch she already has a loyal client following.
Court is our creative bee, designing stock display, creating event touches and enjoying nail art. She will share her advice, coaching you through our professional stock to help with your wellbeing, mental health, inner and outer beauty.
Bringing so much joy, Court will make sure your stay at the clinic will be fulfilling, enjoyable and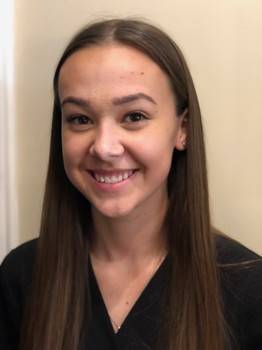 Alison specialises in our massage treatments. With her gifted hands she will melt away any tension, aches and stress away from the body. With her advanced knowledge in massage, Alison will help discover the reason for your aches and pains. She will coach you through the best treatment plan, home-care and will use the power of her magic touch, cupping and techniques to ensure you will get the best lasting results.
* Alison is in the salon every Wednesday, call/text the salon to book your appointment.
Doctor Zac Turner
Cosmetic Doctor
Doctor Zac comes to the clinic - Shea Beauty every 2-3 months providing the best of cosmetic treatments. Giving the best advice for ageing, hormones, weight, nutrition, health & wellbeing. Featuring on the Today Show, Sunrise, The Morning Show, The Daily Edit & working along side with the most powerful health influences The Commando Steve (Coach from The Biggest Loser) he knows how important it is to always be your best & look your best.
*Dr Zac is in our salon once every 3 months. Due to privacy we do not advertise his dates, however if you wish to know when he is next, join our VIP List. Call/text the salon.
Nathan Kake
Napoleon Perdis Head Creator & Makeup Artist
Visiting Makeup Artist Nathan has been with Napoleon Perdis from the start. Head Creator, Nathan helps designs, researches and creators the Napoleon Perdis products. Known for her makeup on Cindy Crawford, Hollywood starts and models for huge designers such as Alex Perry Nathan wants to share his knowledge of the Napoleon Perdis products, show the latest trends but most of all help create the best look for you.

* Nathan will be in our salon 2-3 times a year. Don't miss his next visit when he host our wonderful Napoleon Perdis Workshops/Cocktails nights. Join our VIP List if you wish to know when our next event is.

Want to learn more about our events?
Head to our Events Page to learn more. Click the button below.